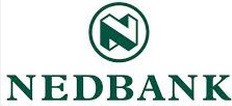 Nedbank
Nedbank Overview
Nedbank Limited or abbreviated Nedbank is a major bank in South Africa and is a subsidiary of the bank holding company Nedbank Group Limited, a JSE listed South African provider of banking, insurance, asset management and wealth management services. Its history dates back to the 1800s through variou... read more
Nedbank Discussion
Q: On 3 or 6 months fixed depostis are they flexi - can one draw in case of emergencies?

Q: What is thee present interest rate for senior green bonds

Q: do i need to have a Nedbank account to apply for a loan

Q: Hi I would like to ask if i open a fixed deposit account can i put in money every month and if yes what will my interest rate be. This is when i put in R500 every month. Thank you

Q: What is Nedbank's rate on green savings bonds for 2, 3 & 5 years? Can the rate be changed after 1 year like SA Treasury bonds?

Q: Please advise whether the quoted interest rates for the Nedbank Green Savings Bonds are Nominal or Effective rates. Regards

Q: Who qualifies for a bank loan, employed or unemployed individual? Are there any terms & conditions and what's the minimum income required to qualify?
Nedbank Discussion Activity
Credit
Q: As for credit repayment, is it a must to pay the minimum instalment, within the period 12 months, or can be more than 12months?

Deposits
Q: I am 60 years old and want to invest a lump sum pension amount . What would be the best investment account for me with Nedbank? Thanks

Nedbank 1 Year Fixed Deposit - Deposits
Q: I do not bank with nedbank and I took a loan with nedbank , will the 1 year fixed deposit be accepted and will it not affect my personal loan?